HACA Announces Monique L. Pierre as New President and CEO
After conducting a nationwide search, the Board of Commissioners of the Housing Authority of the City of Asheville (HACA) is pleased to introduce Ms. Monique L. Pierre as its new President and CEO.
Ms. Pierre has spent over twenty-five years of her career as a housing and community development professional, advocating for and developing safe, decent, affordable, and attainable housing. As a proponent of equitable communities, she began her career working in public housing to provide resident services and apply her urban planning skills to the redevelopment efforts of large public housing sites across the city of Detroit. Her early years in the field were followed by a variety of experiences in the nonprofit and public sectors, where she honed her community engagement, development, and leadership skills.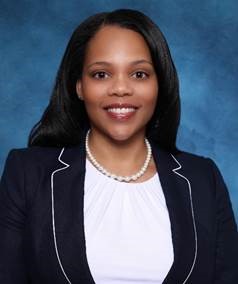 Ms. Pierre recently served as the CEO of Partners for Better Housing, a non-profit housing developer in Northwest Arkansas, and prior to that, she was the Chief Development and Modernization Officer for the Housing Authority of the City of Pittsburgh, one of the nation's largest housing authorities. There she oversaw the day-to-day operations of a multi-million-dollar development, modernization, construction management, and compliance division. Her work included the development of equitable consolidated planning strategies and the creation of a highly sought-after tiered RFQ program, garnering the attention of small, moderate, and large expert developers as prime stakeholders. Serving as a subject matter expert to the agency, she successfully negotiated several development agreements to further advance the mission of safe, decent, and affordable housing. Ms. Pierre was a regular participant in public forums, lending her expert guidance in Choice Neighborhood planning, grant management, and low-income housing tax credit-funded projects.
She has also served the City of Montgomery Alabama Housing Authority as the Director of Real Estate Development and the State of California as the Section Chief in the Program Design and Development Division. Both roles allowed her to collaborate with developers, architects, the funding community, various boards, and legislative staff. She is no stranger to building strong and sustained partnerships with an abundance of non-profit agencies, city and county government officials, and a myriad of resolute housing advocates. Her
development experience is quite extensive and impressive, having served in senior leadership roles in the states of California, Michigan, and Pennsylvania.
Ms. Pierre has been recognized in the housing field for her expertise and contributions in a variety of forums. She is a two-time recipient of awards from the state of California's Department of Housing and Community Development for leading the design and implementation of special programs such as the $2 billion bond fund for the No Place Like Home program and the Veterans Housing and Homelessness Prevention Program. She is a graduate of the very competitive statewide California leadership cohort and the Kent County Leadership Enhancement and Development Program.
Ms. Pierre received certifications from HUD as a Home Certified Specialist, Novogradac Property Compliance Certification, and the National Development Council, earning a certification in Development Finance. She trained at Rutgers University in their Public Housing Directors Training Program and with NAHRO in their Executive Directors Program. She earned her Bachelor of Arts degree from Michigan State University.
Ms. Pierre was born in Grand Rapids, MI, and is a proud "Army Mom" to her son Mercer Pierre, who is a Specialist enlisted in the U.S. Army. When she is not working, she enjoys reading, traveling, and staying active.
HOUSING AUTHORITY OF THE CITY OF ASHEVILLE
Providing safe, quality, and affordable housing, expanding available resources, and collaborating with the community to create opportunities for resident self-reliance and economic independence.
HELPING FAMILIES BECOME SELF-SUFFICIENT
For 75 years, the Housing Authority of the City of Asheville has striven to serve its residents by providing an affordable home and avenues to self-sufficiency.
HOUSING CHOICE VOUCHER PROGRAM
The housing choice voucher program is the Federal Government's major program for assisting very low-income families, the elderly, and the disabled to afford decent, safe, and sanitary housing in the private market. Since housing assistance is provided on behalf of the family or individual, participants are able to find their own housing, including single-family homes, townhouses and apartments.